Laura Gallon, AURA Fine Gems
Laura Gallon, a jeweler's granddaughter, launches her jewelry brand AURA Fine Gems. Inspired by the beauty of colored stones, her creations give off an almost magical energy like an aura that is immediately transmitted to the wearer.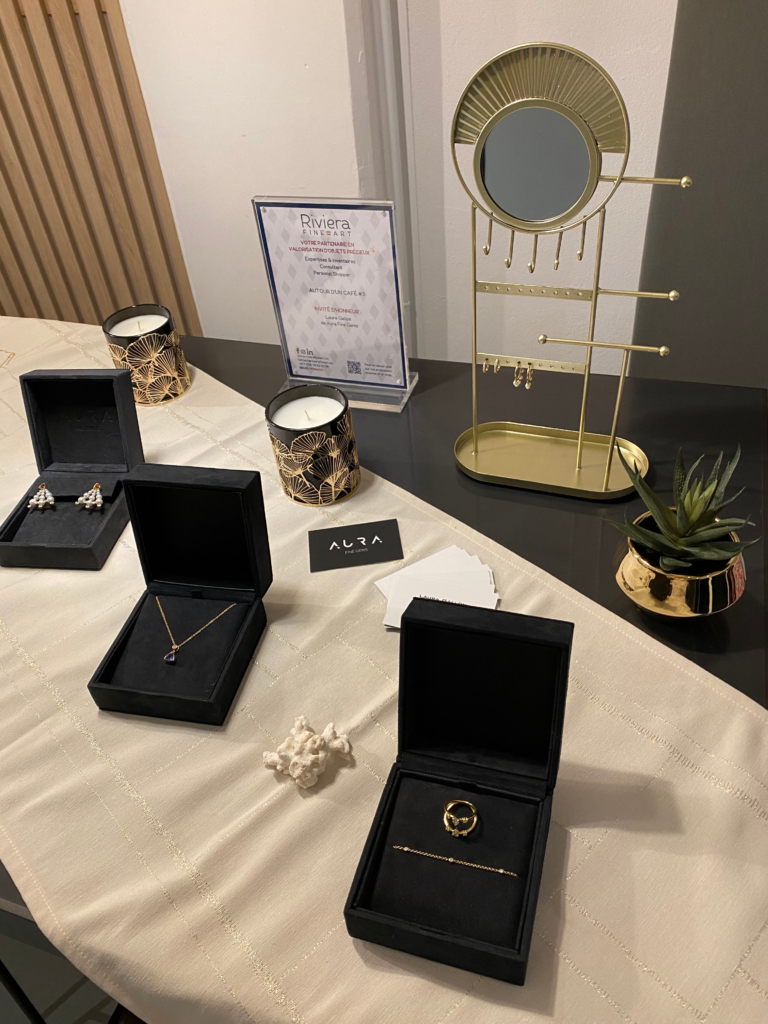 A double degree in gemology and design
The contemporary shapes of her jewelry combine functionality and modernity. Her collections are adapted to the different moments of the day and evening. 
After training in gemology, Laura Gallon continued her studies at a jewelry design school in Los Angeles. She delicately selects each gem before designing the jewel that will sublimate them.
Each creation is carefully designed to be worn for formal or casual events. The balance between the size of the stone and its setting gives a result of a delightful freshness, far from the standards of classic jewelry.
If the workshop is located on the other side of the Atlantic, its heart remains in France. Cannoise by adoption, that's how we met on our Côte d'Azur territory.
Passionate about colored and precious stones, we agreed on the question of the transmission of knowledge related to this field. She naturally uses colored garnets with a gradation of pearls for a beautiful result. 
"Over a coffee" at The Office Monaco, we were able to appreciate in more detail his career and his projects. Curious and passionate about jewelry met to exchange on the theme of contemporary creation.
More and more frequently, women want to wear personalized accessories.
Custom jewelry allows you to create a piece of jewelry from a unique stone that you have chosen. 
Contrary to what one might imagine, it is not so easy to find your ideal stone. Color and shape, size or purity as well as price are variables to be taken into account. 
At your side, we accompany you in the choice of quality stones as well as at all stages of creation with talented jewelers.
To learn more about our personalized consulting services,
contact us.